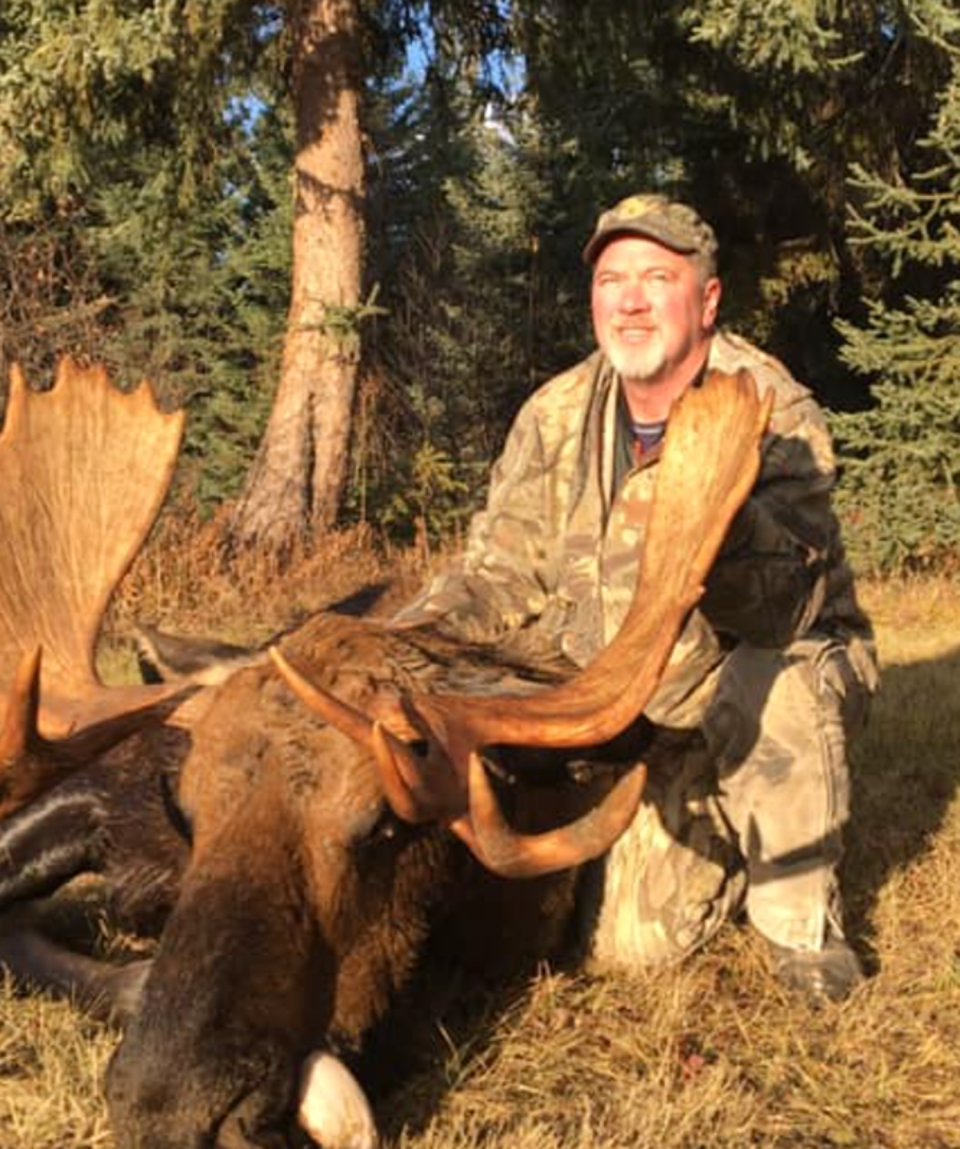 Moose Hunt
Fawnie Mountain Hunts conducts 10 day moose hunts beginning each fall on September 15. Hunts are conducted from the main Lodge on Laidman Lake or clients have the option of flying from the Lodge at Laidman to one of our out post cabins or camps. Fall moose hunts can be combined with a fall black bear and wolf hunt for an additional fee. Trout fishing can be done in the lakes at any time during the hunt. While the main fishing season is winding down, fishing remains good on the lakes; particularly when using small spinners or during calm conditions allowing for the use of flies.
Our area is well known for its dense population of Canada Moose. Our main lodge at Laidman Lake is in the heart of prime moose country. Each fall we harvest good bulls from the shore of Laidman Lake. The area has many lakes, which provide easy floatplane access to our outpost camps. Moose like the habitat provided by the lakes and meadows that interconnect the lakes.
Large forest fires in recent years have dramatically changed the landscape in our hunting territory. The fires have cleared the forest of thick underbrush and the resulting increase of moose feed has resulted in a high winter survival rate. In short, the fires have improved the moose habitat. Our guides report that with the underbrush gone, their moose calls travel much further…an unanticipated benefit to the hunter!
Transportation during the hunt is by boat and hiking, depending on the physical limitations of the hunter. We are able to get close to many moose in the boats and calling is effective from both boats and while hiking. The extensive use of boats makes this hunt popular with hunters who do not want to hike long distances. We successfully guide hunters in all types of physical condition, and in ages ranging from 14 to 80 years.
Antler sizes of mature bulls ranges from 40 to 55 inches wide. Antler characteristics vary from heavily palmed and relatively "compact" racks to tall and wide (but less palmed) racks. We have noticed some interesting and pronounced drop tines and eye guards on several moose over the years that indicated a rather unique genetic trait amongst some of the bulls harvested. Regardless of antler size, our bulls all tend to be good eating!
Upon a successful hunt, meat and trophies are stored in a refrigerated unit at Laidman Lake before they are driven to Prince George for processing (we have a selected meat cutter and taxidermist in Prince George who handle all our needs). Clients can make arrangement for their meat and taxidermy needs directly with our selected providers.
The First Day

of your Moose Hunt

Your ten day moose hunt consists of 8 full days of hunting.

Your hunt will generally go as follows:

You will be picked up from your hotel in Prince George by our staff at 8:00 AM (or earlier if required). From there, you will be driven to the main Lodge at Laidman Lake. The trip to the lodge takes about 4 hours depending on the road conditions. Stops can be made if clients need to pick up any last minute items.

Once at the Lodge, you will be given a cabin to settle into for the duration of your hunt, shown the facilities at the lodge, introduced to our staff, and served lunch. We will provide you with your hunting licences and take care of any outstanding paperwork at this time. You will meet your guide who will provide you with a detailed plan for your hunt. (For hunters going to a fly-out camp, your guide may already be out at the fly-camp when you arrive but you will be looked after by our staff). There will be an opportunity to sight in you rifles and/or bows in the afternoon. Our guides will be happy to assist you with this.

The afternoon is yours to relax, sleep off any jet lag, organize your gear, and simply enjoy the services of the lodge in your wilderness surroundings. Clients flying out to a camp can repack their gear to lighten the load. Some hunters flying to camps may fly out late in the afternoon or early evening while the remainder will fly out the next morning.

Snacks will be served early in the evening and supper will be served at 8 in the evening.

The Following Days

of your Moose Hunt

For hunters hunting from the main lodge, the next day will start early with your guide providing a light breakfast in the main lodge before you head out to hunt.

For hunters flying to one of our camps, your day will start with breakfast being served at 7:00 AM with fly-outs starting promptly at 9:00 AM. Depending on the amount of flying that needs to be done, some clients may not be flown out to camp until 10:30 or so.

Now the daily hunt routine will begin. Your guide will let you know what they have planned for each day.

Once you have successfully harvested an animal, the meat, cape, and antlers will be put into cold storage at Laidman Lake for transport to Prince George. For hunters with additional species tags, your hunt will continue. Your guide will provide you with a plan for hunting your next species. Hunters at fly-out camps may choose to return to the main Lodge at Laidman Lake upon a successful hunt or they may choose to remain in camp until the last day of hunting.

For hunters who "tag out" before the end of the hunt, arrangements can made should they decide to leave early. Otherwise, hunters are more than welcome to stay and relax, tell stories, fish, and take in the lifestyle of the Lodge.

The Final Day

of your Moose Hunt

On the last day of the hunt, you may have an opportunity for a morning hunt (depending on several factors). There is no evening hunt on the last day. Hunters at fly-out camps must be packed and ready to return to the main lodge before 9AM. Morning hunts on the the last day are seldom needed due to our success rate.

An early lunch will be served and any paperwork (harvest reports, final payments, etc.) will completed at this time. Clients flying home will then be driven back to Prince George by our staff in the early afternoon (usually arriving in Prince George before 5 PM). Clients who drove to the main lodge are free to depart at anytime they like… but we suggest they stay for at least one more home cooked lunch with us!

Your meat and trophies will normally travel with you when you depart. For clients flying home, we provide coolers at cost in order to allow you to bring selected cuts of meat home as extra baggage (please check with your airline ahead of time to make arrangements.) Trophies may be dropped off at our preferred taxidermist on the way to Prince George and you will have an opportunity to deal with the taxidermist directly.

Occasionally your meat/trophy is not ready for transport at your time of departure (usually as a result of a last minute harvest.) In that case, we will bring your meat/trophy to Prince George at our earliest convenience. Our staff will take you to the meat locker/taxidermy facilities upon your return to Prince George where you can make arrangements for the handling of meat and trophies, directly with our service providers. Of course, clients who drove to the main lodge are free to stay until their meat and trophies are ready for transport.

*Please note that the shipping of meat can be challenging (sometimes impossible) and very expensive. Kindly keep this in mind if you chose to harvest an animal at the last minute. Fawnie Mountain Outfitters is not able to make arrangements for the shipping of meat. Our taxidermist can make arrangements for the shipping of completed trophies.

For clients flying home, once you return to Prince George, and after all meat and trophies have been taken care of, our staff will drop you off at your hotel. Staff may remain in town for the evening and be available to assist you with any issues that may come up during your stay in Prince George.

What You Will Need

Downloadable Packing List

This list is provided to assist our clients when selecting gear for their upcoming hunt. The list is focused on the equipment needed for Moose Hunting but many of the items listed will also apply to a Spring Bear Hunt.

For all our hunts you can expect overnight night temperatures to dip below freezing. Daytime temperatures often do not rise above 15°C (60°F).

Quantities of a particular item are provided when it is important; otherwise, it's up to the client to determine quantities.

For clients flying to an outpost camp, it is important to keep the weight limited to 50 Lbs. You can leave extra gear (hard gun case, travel clothes, etc.) at your cabin at the main lodge during your time at the outpost camp in order help meet the 50 lb. limit.

*This list does not include clothing and footwear you would travel in.